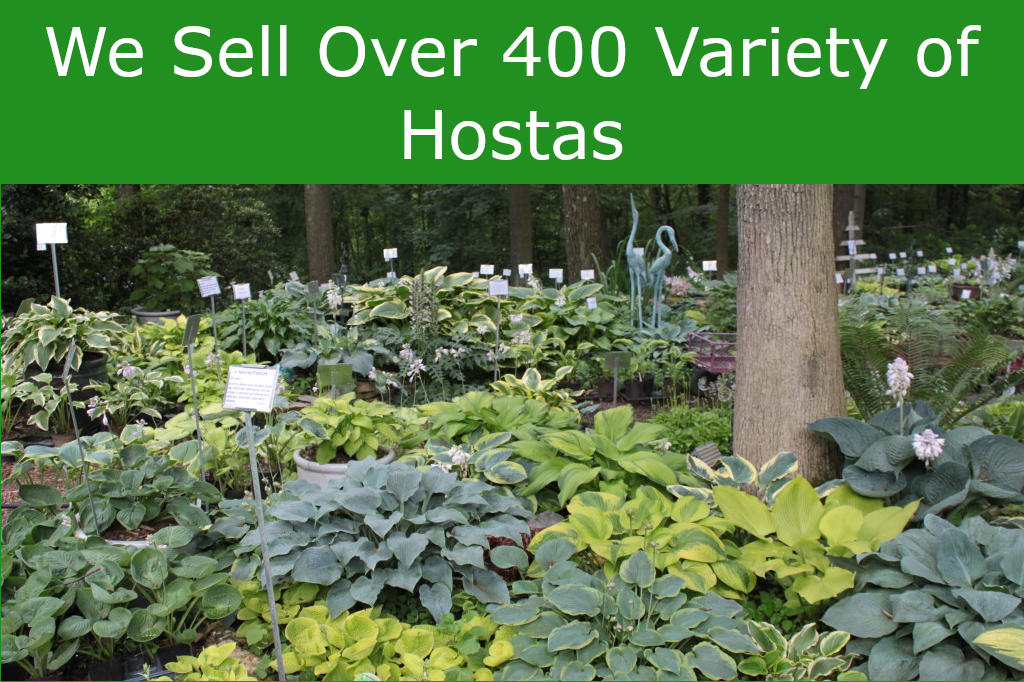 Hours of Operation
We are open regular hours for the 2021 season through Columbus Day, Monday October 11, 2021. Winter hours: call for an appointment, and any scheduled events check our facebook page. Regular hours for the 2022 season begin mid April.
The Hosta "White Feather" is in stock, nice and full gallon pots. $18
Regular Hours-
Monday through Friday 9am - 6pm
Saturday 9am - 3pm
COME FOR A VISIT
CALL DONNA FOR INFORMATION
or Gift Certificates AT 717-253-4830
Location and Directions
We are located at 95 Sequoia Court, York Springs PA 17372

Open end of April to October  
Phone Number: (717) 253-4830
What our customers are saying: "The selection is absolutely spectacular and the prices are very reasonable. The Hosta Hideaway is well worth the trip." Lonny & Tammy Langione, Dover, PA
Come for a visit. Hostas and gardens are beautiful!
Welcome to The Hosta Hideaway Nursery and Gardens of York Springs, Pennsylvania where our goal is to offer a large selection of quality Hostas at reasonable prices. We currently have approximately 400 varieties of hosta and an expanded grouping of complimentary shade plants for sale. We also offer decorative items to add interest to your gardens. Coming to the Hosta Hideaway is a unique experience where our customers can view garden displays of mature hostas to assist in visualizing hostas in their own garden spaces. The Hosta Hideaway offers knowledgeable specialized service to assist in helping our customers choose what hostas would be best for their gardens. Hostas have beautiful foliage and are easy to grow part shade perennials plants. Sizes vary from miniature to giant (miniatures stay six inches or less in height and giant hostas can grow to over four feet tall) and colors can be any combination of greens, blues, yellows and white. Each year we strive to add new varieties of hostas to our nursery and to expand our gardens to provide our customers with the best opportunity to choose from a large quantity of quality perennials. Come for a visit and experience our personalized service and the beauty and serenity of our gardens.