Hosta Hideaway Metalworks
In 2020 artist and metalworker Chuck Seitz decided to work full time for the Hosta Hideaway Nursery and Gardens of York Springs, Pa. Chuck is the son of nursery owner Donna Seitz and Chief Executive Officer Charles Seitz, and he is presently the operations manager for the Hosta Hideaway. Additionally, as part of his responsibility for the nursery he creates original artware through Hosta Hideaway Metalworks. Much of his unique art utilizes crafted steel and repurposed materials to enhance your garden landscape. Additionally, Chuck employs steel to make small original garden structures, arches, and trellises to create purpose and form in the garden space. Below is a sampling of his artwork. If you are interested in any of the pieces below or if you would like to discuss the creation of an original piece, please contact The Hosta Hideaway at 717-253-4830 for more information. Even if the piece pictured below is not presently available, in most cases a similar piece can be re-created for your garden.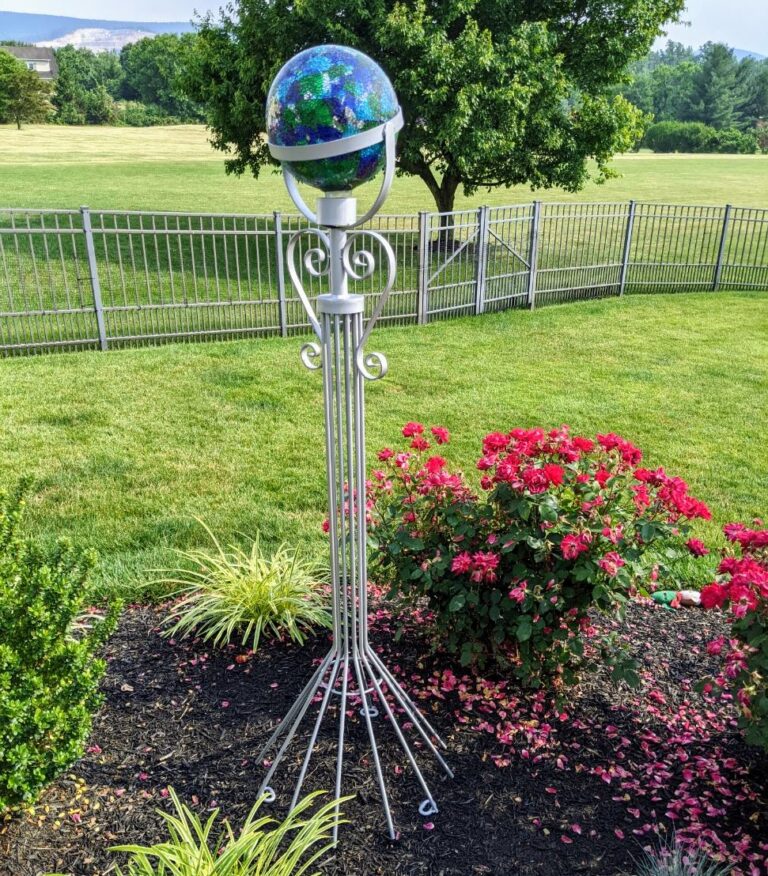 "Gazing Ball" (2021) – Chuck created this piece for a customer at The Hosta Hideaway. We can provide a gazing ball for the piece or you can pick your own to personalize it for your own garden needs. He presently has this size piece, and a smaller size piece for sale. Or you can discuss a shape of your own for a gazing ball, bird bath or bird feeder. Call for dimensions and pricing.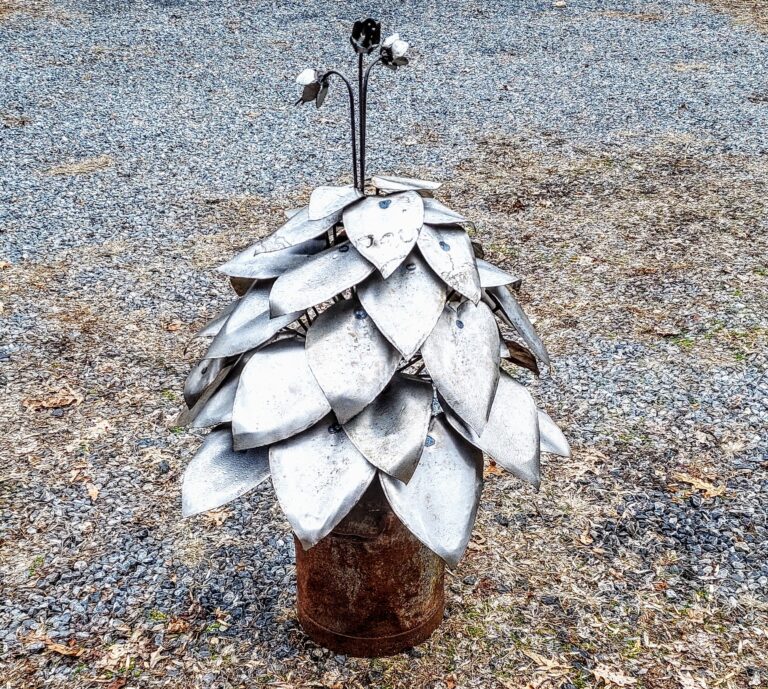 "Halcyon" (2-2023) – What better way to enhance your part shade or hosta garden than to utilize a hosta statue as a centerpiece to the garden. The dozens of steel leaves of the hosta statue will continue to develop a beautiful rust patina as it ages. The base for the hosta is a repurposed steel container from a local farm. Call for dimensions and pricing.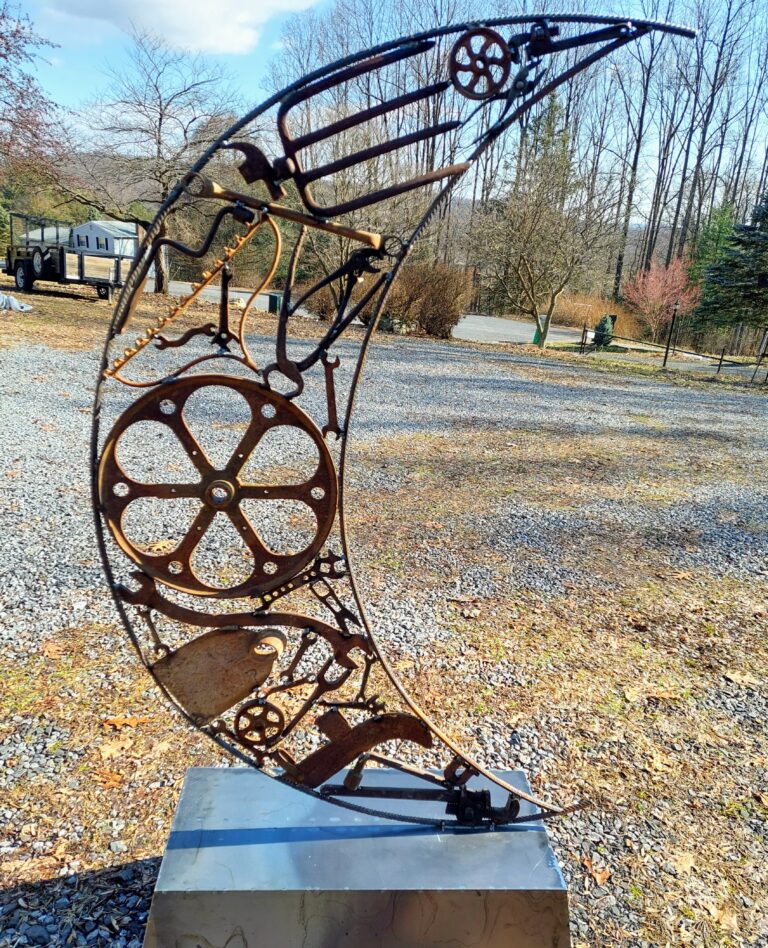 "Half Moon Wrench" (1-2023) – Half Moon Wrench is the name of a specific type of wrench and therefore it is an appropriate name for this large moon filled with uniquely placed repurposed tools, many of which were used directly in the garden. Call for dimensions and pricing.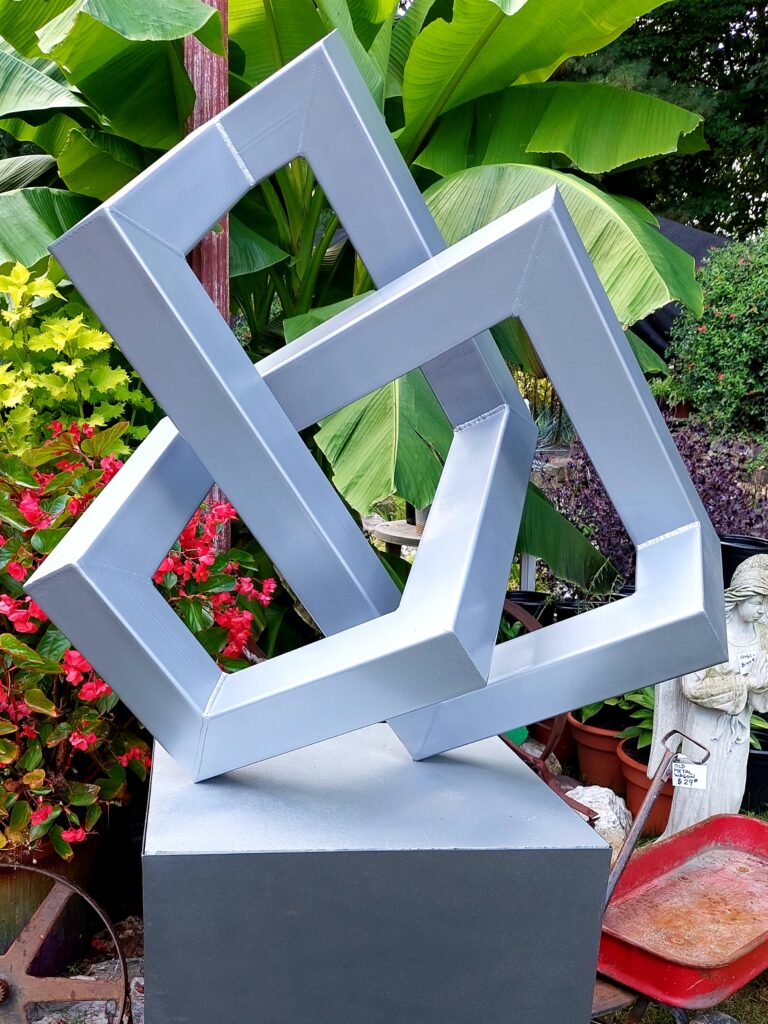 "Pathways" (2020) This large sculpture was one of the first pieces created by Chuck once he started working at the Hosta Hideaway. It is a beautiful statement piece for any garden with a modern appeal. It can be moved in two pieces for easy transport. Call for dimensions and pricing.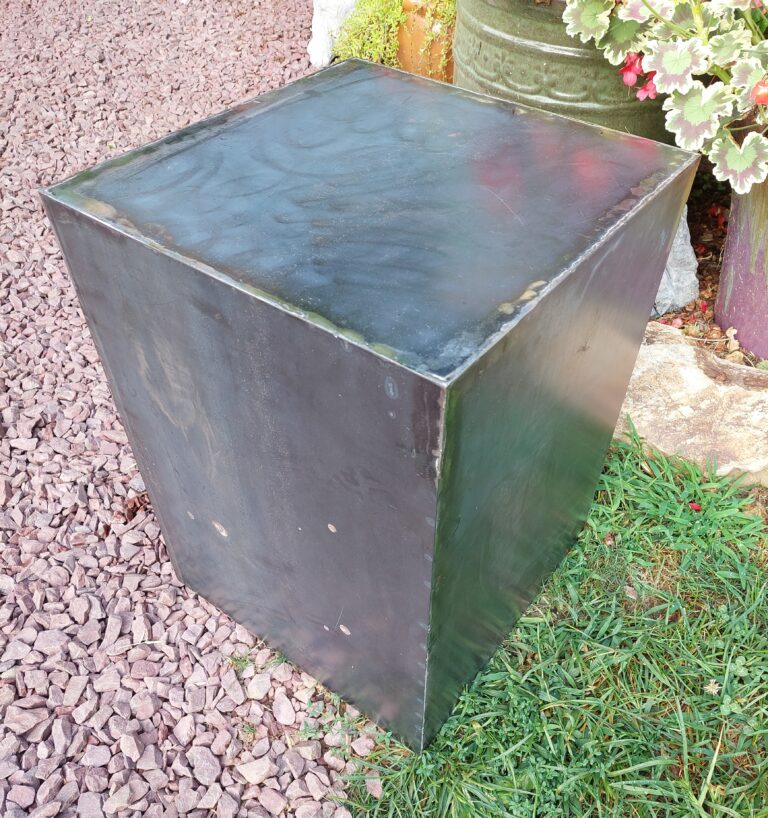 "Steel Base or Bin" (2022) – These steel bases have many purposes. Each one can be sized to your specific need. They are great to elevate statuary or planters in your gardens. Or bins can be created to use as steel planters on a patio or as a center piece to a garden. Call for dimensions and pricing.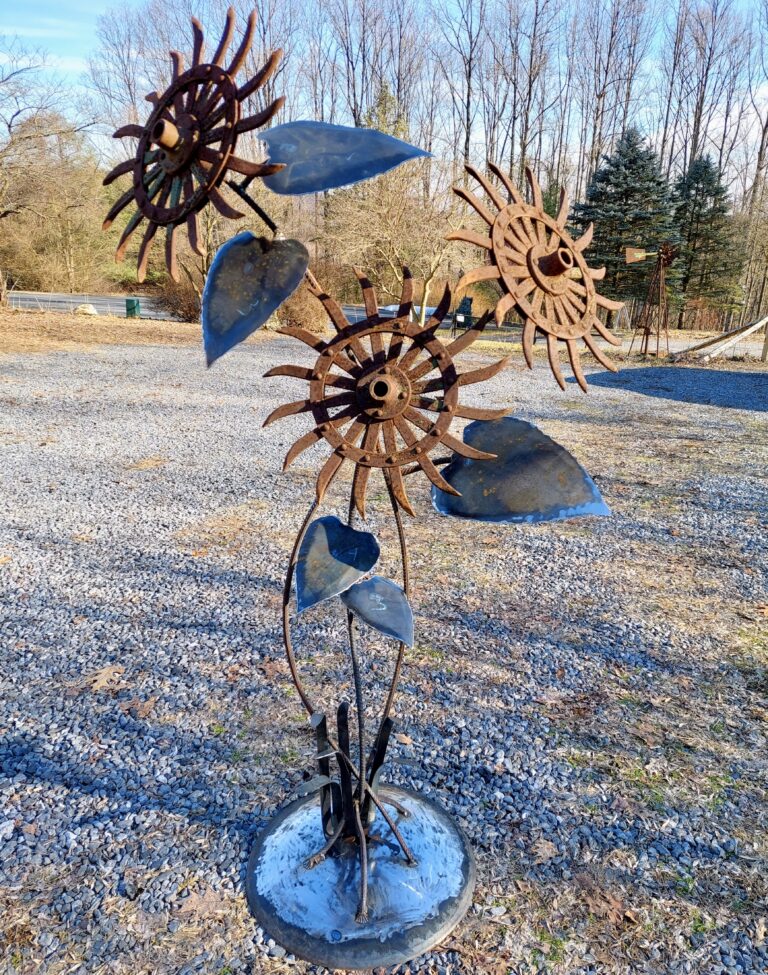 "Sunflowers" (1-2023) – Utilizing antique metal farming implement disk aerator cultivator tines as a foundation for the sunflowers, this statue balances repurposed pieces with artistically manipulated steel leaves and stems for a statement piece in your garden. The base is weighted to stabilize the statue. Call for dimensions and pricing.
"Fiddleheads" (2-2023) This creative design will add whimsy to your garden spaces. The piece is approximately four feet tall, and is designed to be freestanding, as it sits on a circular base, It can be designed in any size up to four feet.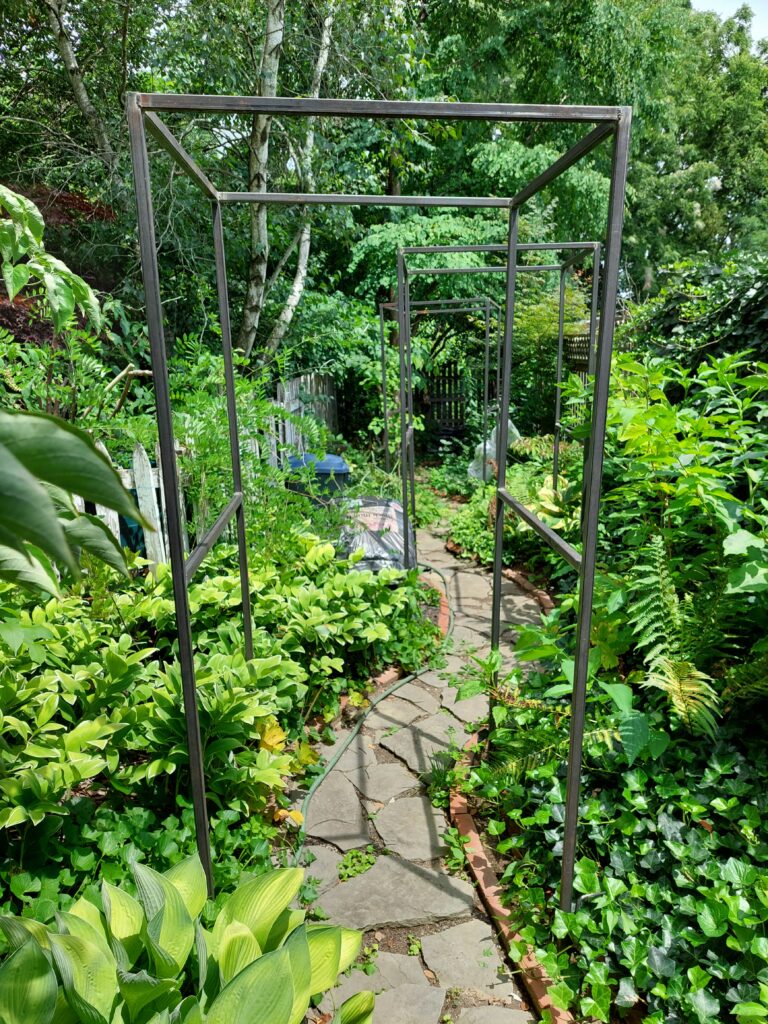 "Trellis" (2022) – These trellises were developed for a customer who wanted to create some extra shade for her garden path. A light shade cloth material was added to the top of each trellis once they were installed to provide shade for her hostas. Call for dimensions and pricing.